Being a Golfer Doesnt Mean You Have to Dress Like One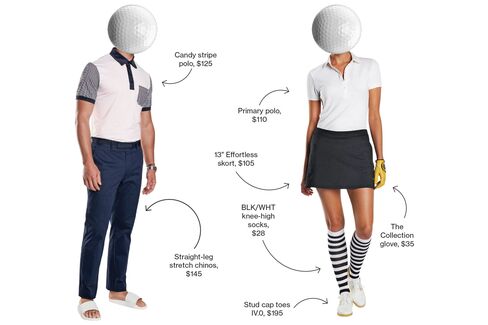 Golf fashion has traditionally been an oxymoron. Although golfers can wear pretty much whatever they want as long as it doesnt violate the course dress code, their outfits have gotten stuck at either blandly conservative or proudly dorktastic.
This is distressing to Mossimo Giannulli. The designer, best known by his first name, thinks the market is lacking any sort of energy or spirit, which is why five years ago he quietly began his own golf apparel company, G/Fore. Maybe its a golf brand, maybe it isnt, he says. A nice polo with a slim trouser is a good look with a pair of Stan Smiths. I dont care if youre on the golf course.
Giannulli began his career three decades ago with the Mossimo line of neon volleyball shorts and T-shirts that came to define a particular kind of 90s-California cool. Over the next decade, his surf-style collection grew into a sprawling lifestyle brand, with annual sales of more than $72 million in 1995. The company went public in February 1996, and share prices rose from $18 to $50 in a few months. By 1998, however, Mossimo was near bankruptcy, the result, critics said, of overexpansion. Giannulli was able to save his brand by signing an exclusive deal with Target for $27.8 million in guaranteed royaltiesa pittance compared with what the company was once worth. Since then, Giannulli has run and backed other fashion labels, but G/Fore is a from-scratch endeavor.
This isnt a lot of focus groups or studying the market, he says. But I do think theres a pretty big opportunity. If so, its a counterintuitive one given the rapidly shrinking number of people who actually play golf. But G/Fore isnt the only company betting that men want something stylish and stretchy on and off the course. Nike recently announced that even though its getting out of the golf-equipment game, it will continue to make clothing. In 2013, Bonobos introduced a golf-specific brand, Maide, to sell stretchy, water-resistant versions of its chinos. The website for Travis Mathew, the brand that former pro Travis Johnson founded, features golfers goofing off on the beach wearing quick-drying, wrinkle-resistant shorts. Theres also Linksoul, with the motto Make par, not war and inventory that includes chambray ties and knit beanies.
G/Fore is slowly making its way onto the racks at pro shops and department stores. Sales of gloves and shoes have doubled year-over-year. G/Fores Cabretta leather gloves, in 19 bright colors, are best-sellers at $35 each. Other peak performers include golf shoes that look like basketball high-tops, visors with a skull-and-crossed-tees logo, and slim-cut, cropped pants with enough spandex to allow them to stretch through your swing. The styles are conservative enough to satisfy the dress code at most country clubs.
The company works with Bubba Watson, who wore the labels stars-and-stripes golf high-tops at the Rio Olympics, and Tom Watson (no relation), but so far G/Fores best ambassadors havent been golfers: Justin Timberlake played a couple of rounds with the Golden State Warriors Stephen Curry at a celebrity golf tournament this summer in head-to-toe G/Fore. Michael Phelps wore a G/Fore hat onto the pool deck in Rio, and Gwyneth Paltrow has given the brand a push on Goop.
Despite the positive notices, Giannulli says hes not about to repeat his previous mistakes and push G/Fore too far too fast. Is this a $1 billion business? No, he says. But I think its a hundreds-of-millions-of-dollars business. Even the more traditional guy is moving a little edgier sometimes.
Read more: http://www.bloomberg.com/