Louisville remembers a beloved neighbor, poet and singer called Muhammad Ali
Residents from all walks of life brave gales and rain to gather and share their thoughts on the man who inspired them in so many different ways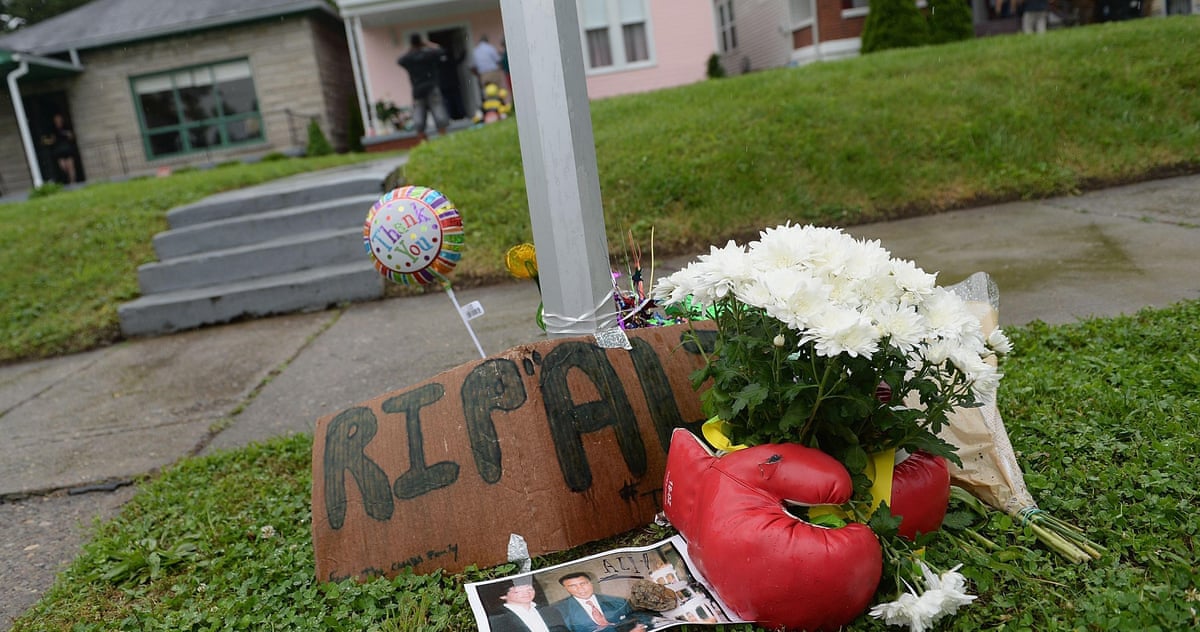 The people of Louisville poured into public squares on Saturday night, to remember the citys most beloved son.
They talked about him in terms Muhammad Ali would have appreciated:
He was the greatest.
He was the one and only.
He was the peoples champion.
We grew up hearing the stories about him. About his goodness, said 26-year-old Breanna Detenber. She and her husband, Seth, visited a spontaneous memorial in the plaza outside the Muhammad Ali Center. Their family is of mixed race, and their son, Mason, laid roses alongside a picture of Ali.
For us, he was
She stopped, surprised by tears, and turned to Seth. Say it for me.
There will only ever be one Muhammad Ali, he said.
Hundreds turned out at the memorial, despite gales and spitting rain. They were a testament to the breadth of Alis influence: white people, black people. Young, old. Many wearing headscarves, others wearing pinstriped suits.
News of Alis death had come early that morning, of complications following three decades battling Parkinsons disease. His life was paradoxical, frightening to authority figures in the mid-20th century, inspiring to generations that followed.
Ali will be buried in Louisvilles Cave Hill cemetery on Friday. Beforehand, there will be a procession through the streets to allow anyone who is there from the world to celebrate with him, family spokesman Bob Gunnell said earlier. It will follow the route of the parade that greeted Ali, then Cassius Clay, home from the Rome Olympics in 1960
But in Louisville on Saturday there was little talk of Ali as a boxer, despite his stature in the ring. People remembered him as a multi-dimensional person: a neighbor, a poet, a singer, a philanthropist.
Theres a lot of sadness, yes. But people also want to celebrate the variety of his accomplishments, said Donald Lassere, the president of the Ali Center. He was an inspiration. To all types of people.
Teddy Abrams, conductor of the Louisville orchestra, arrived with a keyboard and friends: violinist Scott Moore and percussionist Jecorey Arthur, better known here for rapping under the name 1200.
Muhammad Ali became a symbol of hope and love, and among other things he was also a musician. He could sing, Abrams said. So we came out to bring some of that love and music to the people. Right now people could use a little hope.
Arthur said that as a boy he felt Alis influence in acute ways. Racially, artistically, geographically.
He wasnt just from Louisville. He was from West Louisville, he said. Im from West Louisville.
The city was segregated during Alis youth, and he grew up in what was, at the time, a black middle-class neighborhood. It was an in-between sort of place in the southern US in the 1940s and 50s, not wholly belonging to the world of black southernness, but far from white southernness.
But he made it, Arthur said. Ali is forever.
At Alis childhood home a modest pink house on Grand Avenue people gathered to leave balloons, flowers, cards, signs. Many lived just blocks away, but others came from distant corners of the country.
Read more: https://www.theguardian.com/sport/2016/jun/05/louisville-remembers-beloved-muhammad-ali-neighbor-poet-singer-and-philanthropist