Queen's birthday: Street party closes celebrations – BBC News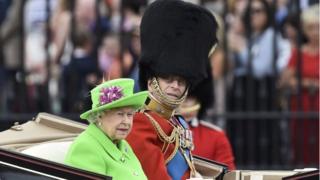 The Queen is due to attend a huge street party on the Mall in London, the last event of the three-day celebration to mark her official 90th birthday.
Along with other senior royals she will join 10,000 people for the Patron's Lunch – recognising her patronage of more than 600 organisations in the UK and around the Commonwealth.
The event has been organised by the Queen's grandson Peter Phillips.
The festivities will also include a carnival parade.
Thousands of rain ponchos have been prepared for the open-air event in case of bad weather.
On Saturday, thousands of people turned out to watch the annual Trooping the Colour parade.
Dressed in a vivid lime green coat and matching hat, the Queen was escorted down the Mall in a horse-drawn carriage to the ceremony at Horse Guards Parade.
After the parade of more than 1,600 soldiers and 300 horses, she appeared on the balcony of Buckingham Palace with members of her family, including Princess Charlotte, for an RAF flypast.
Queen's eye view: See the Trooping the Colour in 360 degrees
In pictures: The Queen's official 90th celebrations
---
'A relaxed affair'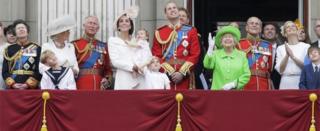 By Peter Hunt, BBC royal correspondent
After the service at St Paul's on Friday and the pageantry of Trooping the Colour, the Patron's Lunch is being described as a more relaxed, informal affair.
It will be a unique event which will bring together senior royals, corporate sponsors and 10,000 picnickers seated at tables along the Mall's ceremonial route.
Many of the tickets were offered to charities with links to the monarch. The price of each ticket – 150.
The cost of entry has been criticised as has the fact the Patron's Lunch was not put out to tender and is being run by the Queen's grandson, Peter Phillips. His company will receive an undisclosed fee.
But Palace officials stress this is a costly, not-for-profit event which will help charities raise money and their profiles.
Given the nature of the British weather, the organisers will have on hand more than 500 litres of sun cream and more than 12,000 rain ponchos.
---
Ninety-year-old Heather Gunner from Walton-on-Thames in Surrey who will be among the guests attending the street party spoke of her admiration for the monarch, remarking: "She's got a lot on her plate for her age."
Born in the same year as the Queen, she received a ticket to the festivities through the charity Friends of the Elderly.
"I have great admiration for the Queen. I really do," she said. "I think she's coped excellently."
What can you learn about longevity from the Queen?
Read more: http://www.bbc.co.uk/news/uk-36509469